March is a wrap! This month has been an incredible reading month for me, I'm not sure what happened. I just kept zooming through books and a wide variety of them too. I have Manga, thrillers, fantasy, mystery, YA, horror and some non-fiction. I am not sure why my reading was all over the place, but it worked for me.
One thing I find interesting is that I see around the blogosphere and on booktube is that some times people have themed reading months. An example would be a classics month, science fiction month, and so on. I have never been someone who can read one type of book and only that type for a  longer period of time. Have you done this? I am always curious about what reading habits other people have, I guess I am a bit nosey. Anyway, here are the books I read this month and a few books I am in the middle of.
Over the past month or so I have been reading Death Note, now I am pretty sure this is a manga with 13 volumes so you will be seeing a lot of these covers of the next few months. I have to say I am really enjoying this series. It makes you think about right and wrong and is it the outcome or the intentions that make people good or bad. This whole thing started because my boyfriend picked out this series when I did a little experiment with him. You can find out more about the experiment here: Haul | Boyfriend Picks My Books.
I feel like Christine is one of Stephen Kings most notable novels. Most of the time when someone is talking about Stephen King they mention either The Shining, Christine, or Carrie. I was very excited to get to finally reading Christine and I was not disappointed. He always has a way of making me worried/scared of every day events or objects. I have to say that this is one of my favorites by him, easily a top 3 pick.
I ranted and raved about this book in my review, you can find it here:REVIEW | Herding Cats by Sarah Andersen. I loved this book and if you have not already you should check out her twitter, she is hilarious.
I can't believe I have not picked up this book sooner. I think I was afraid of all the hype surrounding this book when it first came out. I actually didn't choose this book on my own. I had a bookseller pick out some books for me and this happened to be one of the books she picked. I can see why some people have an issue with this book, but I have to admit that I found parts to be surprising and enjoyable, especially the doodles.  I ended up reading  this book in a single day. If you want to see what else the bookseller picked out for me you can find that here: Haul | Bookseller Picks My Books.
This is a non-fiction book that explores the Romanov rule of Russia. Now I love Russian history so this was a books I knew I needed to read. If you read into Russian history there are a few moments and stories that you would never hear happening anywhere else. While I do recommend this book I will say it would be a good idea to have a computer or some type of device where you can search some terms and countries, especially early in the book. There is references to countries and groups of people that no longer exist. There are also some Russian words and titles that are used. If you are unfamiliar with Russian history/government it would also be useful to look them up.
Americanah 
by

Chimamanda Ngozi Adichie
I felt like this book took me way to long to read even though I was enjoying it. I looked and I started it on February 14th, I was reading it for over a month. I am not sure why, but I had a hard time picking up this book. When I did pick it up I read over 100 pages at a time and really enjoyed it. I have never really had that happen to me before. Regardless, this was a good book and I enjoyed the story a lot.
Joe Hill is so good at writing short novels. Each one of the novels that is present in this book was very different from one another, but they were all great. They made me think about society and what people are capable of. It also creeped me out quite a bit. Even though these are fiction they are written in a way where they seems very possible. Even though there are four novels in here I read this in a single day. I could not put it down. I HIGHLY recommend this. I think this was my favorite read this month.
This is the 4th book in the Jackaby series. If you have read my blog for a while you will know that this is one of my top series, I think only second to Harry Potter. It is described as a mixture of Doctor Who and Sherlock Holmes. It is funny, has adventure, great characters, and a great story line. I can easily say I have not been disappointed by a single book in this series. You really should look into it.
Eleanor Roosevelt: Vol 2, The Defining Years, 1933-38 
by

Blanche Wiesen Cook
There is not much to say about this because it is the second book in a trilogy that explores the life of Eleanor Roosevelt. I read volume 1 months ago and finally decided that I would pick up the second. Now, I can already tell that this is going to be an audiobook I am going to rent from the library. Not because it is not good, but because it is very dense and I tend to focus better on these types of books when I am cleaning or working on another "mindless" task. I know, my brain works a little funny sometimes, but all that matters is I figured out what works best for me.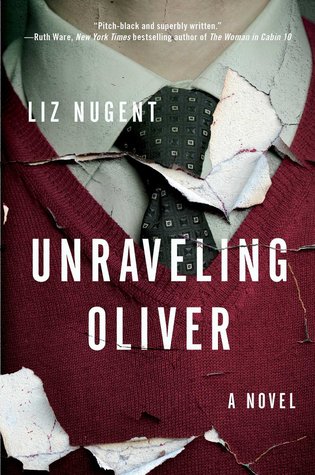 I am currently buddy reading this thriller, I am about 100 pages into it and I am very much enjoying it. It is only about 250 pages, so it is very short. I am very much looking forward to what is going to unfold next.
The Wicked Boy: The Mystery of a Victorian Child Murderer 
by

Kate Summerscale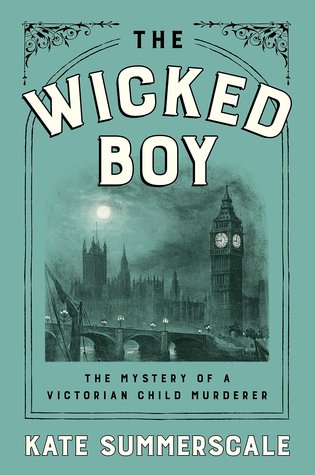 This is a non-fiction account of a boy murderer during the victorian era. I am very much enjoying this buddy read. But, be warned if you pick this up there is a lot of background about the time period not just the court case. So if you do not wish to hear about the neighborhood or what stores where in the town at the time you may find this book over detailed and long winded. I find it interesting mainly because I love learning about how people and navigated in their lives as well as the society they lived in.
What was the best book you read this month?