Hello September! I don't know about you, but September marks my favorite time of the year. I can start wearing sweatshirts and I have more of an excuse to stay inside and read instead of going outside to be social. It also is the time of year I feel more relaxed and comfortable. Not sure why, but this is just my time of the year and I always get excited about it.
Anyway, this month I am going to focus on reading a few of the biggest books that remain on my TBR. I was going to read these in August, but the NEWTs readathon was announced and that plan went out the window so fast. So without more of my ramblings here are the books I am determined to read in September.
The Heart's Invisible Furies 
by 

John Boyne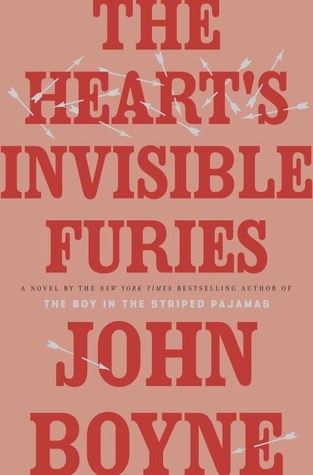 This books I read the first chapter of a few months ago when I did a try a chapter tag. I LOVED the beginning and wanted to read it, but I didn't have a ton of time to dedicate to it so I kept putting it off. Here is the post if you want my initial reaction: Let's Talk | Try a Chapter April 2018.  Also, another bonus is I am reading this with my friend Amy.
Cyril Avery is not a real Avery or at least that's what his adoptive parents tell him. And he never will be. But if he isn't a real Avery, then who is he?

Born out of wedlock to a teenage girl cast out from her rural Irish community and adopted by a well-to-do if eccentric Dublin couple via the intervention of a hunchbacked Redemptorist nun, Cyril is adrift in the world, anchored only tenuously by his heartfelt friendship with the infinitely more glamourous and dangerous Julian Woodbead.

At the mercy of fortune and coincidence, he will spend a lifetime coming to know himself and where he came from – and over his three score years and ten, will struggle to discover an identity, a home, a country and much more.

In this, Boyne's most transcendent work to date, we are shown the story of Ireland from the 1940s to today through the eyes of one ordinary man. The Heart's Invisible Furies is a novel to make you laugh and cry while reminding us all of the redemptive power of the human spirit. –goodreads.com
This is one of the last over 1000 page Stephen King books I own and need to read. I have been reading my smaller ones the last few months as well as his short story collections because I have been doing a bunch of readathons and such so I am excited to finally read one of his larger novels again. I also want to watch this show badly so I need to hurry up and read this already.
Just down Route 119 in Chester's Mill, Maine, all hell is about to break loose…

On an entirely normal, beautiful fall day, a small town is suddenly and inexplicably sealed off from the rest of the world by an invisible force field. Planes crash into it and rain down flaming wreckage. A gardener's hand is severed as the dome descends. Cars explode on impact. Families are separated and panic mounts. No one can fathom what the barrier is, where it came from, and when—or if— it will go away. Now a few intrepid citizens, led by an Iraq vet turned short-order cook, face down a ruthless politician dead set on seizing the reins of power under the dome. but their main adversary is the dome itself. Because time isn't just running short, it's running out. –goodreads.com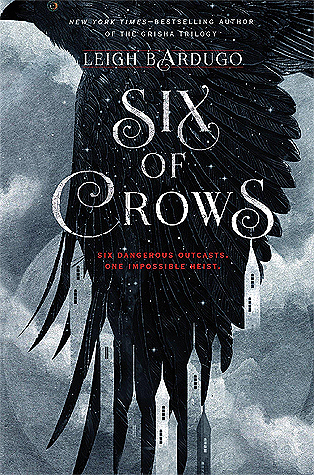 So, this one I am very iffy about. I tried to read this a year or so ago and ended up unhauling it. When I recently went through my owned audiobooks in my post Lists | Un-listened to Audiobooks I realized I had this still in my possession so I should give it another go. I am hoping that I end up liking it as much as I enjoyed the trilogy.
Ketterdam: a bustling hub of international trade where anything can be had for the right price–and no one knows that better than criminal prodigy Kaz Brekker. Kaz is offered a chance at a deadly heist that could make him rich beyond his wildest dreams. But he can't pull it off alone…

A convict with a thirst for revenge.

A sharpshooter who can't walk away from a wager.

A runaway with a privileged past.

A spy known as the Wraith.

A Heartrender using her magic to survive the slums.

A thief with a gift for unlikely escapes.

Six dangerous outcasts. One impossible heist. Kaz's crew is the only thing that might stand between the world and destruction—if they don't kill each other first. goodreads.com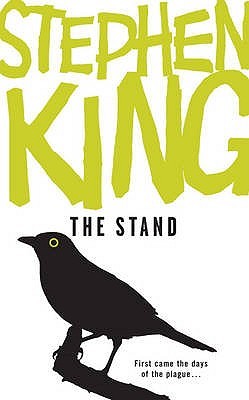 This has been on my radar for a longtime and I finally got a copy of it a month or two ago I think. Maybe even three? I am not 100% sure, but I have been putting this off due to the size so I figured, now was a great time!
First came the days of the plague…
After the days of the plague came the dreams.

Dark dreams that warned of the coming of the dark man. The apostate of death, his worn-down boot heels tramping the night roads. The warlord of the charnel house and Prince of Evil.

His time is at hand. His empire grows in the west and the Apocalypse looms…

When a man escapes from a biological testing facility, he sets in motion a deadly domino effect, spreading a mutated strain of the flu that will wipe out 99 percent of humanity within a few weeks. The survivors who remain are scared, bewildered, and in need of a leader. Two emerge–Mother Abagail, the benevolent 108-year-old woman who urges them to build a community in Boulder, Colorado; and Randall Flagg, the nefarious "Dark Man," who delights in chaos and violence. –goodreads.com
Like all of the other Stephen King books on this list, I have had them for some time and I really just want to read them and I am sick of putting them off. I think that really sold me I was watching a show about mining and the one man was talking about tommyknockers and how they are known to warn miners about a cave in. I am not saying that this is the same spirit of being, It just sparked me wanting to read to see if there was any connection between the two.
On a beautiful June day, while walking deep in the woods on her property in Haven, Maine, Bobbi Anderson quite literally stumbles over her own destiny and that of the entire town. For the dull gray metal protrusion she discovers in the ground is part of a mysterious and massive metal object, one that may have been buried there for millennia. Bobbi can't help but become obsessed and try to dig it out…the consequences of which will affect and transmute every citizen of Haven, young and old. It means unleashing extraordinary powers beyond those of mere mortals—and certain death for any and all outsiders. An alien hell has now invaded this small New England town…an aggressive and violent malignancy devoid of any mercy or sanity… –goodreads.com
Hangsaman by Shirley Jackson
So if you are new here, this year I have found a new favorite author, Shirley Jackson. This month I am buddy reading this novel by her with my friends Amy, Jenna, and Reg. I am really looking forward to it, especially since it was inspired by a real event.
Natalie Waite, daughter of a mediocre writer and a neurotic housewife, is increasingly unsure of her place in the world. In the midst of adolescence she senses a creeping darkness in her life, which will spread among nightmarish parties, poisonous college cliques and the manipulations of the intellectual men who surround her, as her identity gradually crumbles.

Inspired by the unsolved disappearance of a female college student near Shirley Jackson's home, Hangsaman is a story of lurking disquiet and haunting disorientation. –goodreads.com
What do you plan on reading this month?