This tag is way overdo and I apologies for that. I was tagged by the wonderful Zoë, go check her out. I was really excited about being tagged because I have always loved mythology and I have read many stories about the Greek Gods since I was little. I remember always going to the library and eyeing up the books always wanting to take the same one out.
The Rules
Pingback to Zuky here so she can read all your posts!
You can use her graphics if you like, but you don't have to if you don't want to.
Tag as many people as you want, but please share the love.
Little Women by Louisa May Alcott has been my favorite book for some time. I remember reading it for the first time when I was about 10, maybe even younger. But, I really
I think one of the most strong badass female characters would have to be Professor Minerva McGonagall. She has no problem standing up to anyone and does not take anyones nonsense. She is smart, strong, and a you can tell she really cares about her students.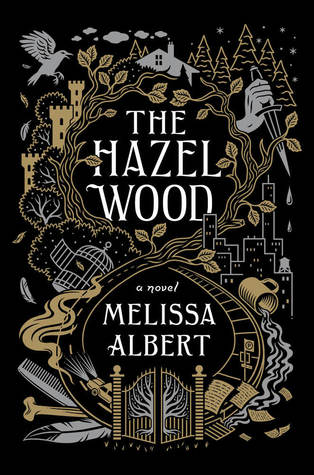 The Hazel Wood by Melissa Albert was one of the best books I have read this year. It took few turns I didn't expects and it was truly a roller coaster ride. I loved how the author incorporated the fairytale elements and blended them together very well. I read this book in a single day.
The First Tycoon: The Epic Life of Cornelius Vanderbilt by T.J. Stiles is my favorite nonfiction that I recommend to those who really love US History, History of Economics, or just a story of someone who was able to go against the status quo and build their lives up to something amazing. It is well written and throughout. I like how it talked about what was going on in the country and the world at the time to give his story more context.
One book I always recommend to people is Jackaby by William Ritter. It is a wonderfully magical story filled with monsters, ghouls, and other creatures. Ritter entwines aspects of Doctor Who and Sherlock Holmes to create a wonderful main character who is helped by a smart and strong woman who is extremely brave.
The Last Werewolf by Glen Duncan, this book was pretentious and badly written. I even passed it on to someone else to see if it was just me. My friend read it as well and they couldn't even manage to finish it.
Why I'm No Longer Talking to White People About Race by Reni Eddo-Lodge, it was one of the best books I have read. It is brutally honest in a way that I think a lot of people could benefit from reading. I highly recommend this book to anyone.
Lincoln in the Bardo by George Saunders is one of the most beautiful book covers I have on my shelf. The picture is a beautiful landscape and the colors used are a wonderful array of blues. It is almost calming even though this is a beautifully treat breaking story.
Lying in Wait by Liz Nugent is a book I devoured in a day. Liz Nugent is one of my favorite authors, her thrillers will leave you on the edge of your seat even though you know exactly where some of her story are going because she tells you right at the beginning. Not only are the plot twists great, but the entire story line has been amazing.
I Tag