It is the wonderful time of year once again, it is time for the OWLs Readathon hosted and created by Book Roast on Youtube. This year she made it even more exciting by create guides for quote a few wizarding professions. I really loved this addition and after a few days of thinking it over I decided to try for Herbology. I thought it would be a good complement to my potion focus reading from last year, TBR | Magical Readathon OWLs Exams, which were built off of her tweet for potioneer last year.
Key Traits as described in the guide, "Gentleness, Patience, Green Thumb, and Intuition", since I am know to others to be gentle, kind, and very patience and I personally aspire to have a green thumb I thought this would be a good pick for me. In addition, I am a proud Hufflepuff and the Herbology professor is the head of my house! So, between all of those things, I think it would be a good fit. Now, on to the books!
Care of Magical Creatures-Land animal on the cover
Fierce Fairytales by Nikita Gill
This was a great suggestion by Amy, from Tomes With Tea, I don't know why I never thought of this book because last year I read another one of the authors collections, Your Soul is a River, and loved it. So I am really excited to have this on my TBR for Care of Magical Creatures. In total there are 3 land creatures that stand out to me.
Herbology- Plant on the Cover
The Overstory by Richard Powers
This book has been one I have been reading to read for months. I picked it up for my year long goal to read a shortlist. This was on the shortlist for The Man Booker prize. It seems like it is going to be a memorizing and enchanting.
The Virgin Suicides by Jeffrey Eugenides
This is a secondary choice I am giving myself for this month. Incase I am not in the mood to read The Overstory for one reason or another. This book has been a classic that is much talked about and discussed and I am curious to see what I will think about it.
Potions-sequel
Beneath the Sugar Sky by Seanan McGuire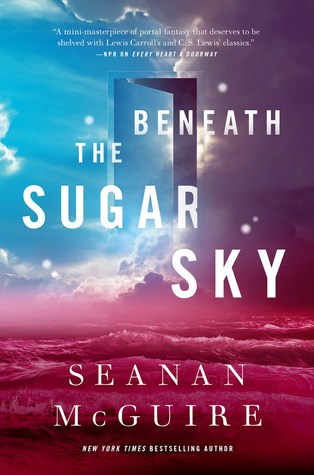 Oddly enough, I looked through my entire owned TBR and this was the only sequel I had. I really have stepped away from series, but I did not think I stepped away from them so much. But, I am happy to get to this book in April. I read the second book in the series in the first part of March and I don't know why I waited so long to continue. So, I am going to make sure I get to this one sooner rather than later.
Chances are I will be updating the most frequently on my progress with this readathon over on twitter. I know that the readathons official  hashtag is #OWLsReadathon2019. I plan on hopping onto that to jump in on the fun. From my understanding she is going to have trivia, matches, and a few reading sprints. Anyway, if you are participating study hard and pass your exams!
What Profession are you aiming for? Which books did you pick?