Hello and welcome to another crochet check in! The past few months I have taken on quite a few new projects and challenges when it comes to crochet and I wanted to take a moment to share the outcomes of these adventures. I know a bit ago I did a post detailing my crochet plans called, Crochet Talk | Upcoming Projects, I figured I should share an update!
---
The Projects
The first project I finished was a Crochet Kobo Cover. I used a pattern inspired by Melanie Ham called Easy Crochet Kindle Cover. I used Lion Brand Comfy Cotton Blend in the color Chai Latte with a 6.0 mm hook. I added a the optional strap and button as well as a fabric lining, the first time I have done either. It was a bit of a challenge doing the lining, but I think the next time I try it will be better.
The next few projects I made were Drawstring Pom Pom Bags designed by Knit Crochet Addict called Crochet Drawstring Pom Pom Bag, I left the pom poms off, not really my style, but it is cute! I used Wool Ease by Lion Brand in quite a few different colors because I made two for me a few for friends of mine. When making this I used the recommended hook size on the yarn to complete the project.

This next project was a basket called the Jessie Stash Basket by Toni Lipsey. To complete the project I used Lion Brand Wool Ease Thick & Quick Color Fisherman doubled up and used a 9.0 mm hook. I really loved how this book came out so much in this cream color! I even placed it on my nightstand to hold my current read and current crochet projects. It is very durable too because the yarn was doubled up. I really love Toni's patterns and videos.
Next, I created a Highlander Twisted Shawl which was designed by Lilian for a friend of mine. I decided to use Lion Brand Wool Ease Thick & Quick in the color Galaxy, which is a bit hard to see in the picture, but is a deep purple with sparkles here and there. I ended up using a 9.0 mm hook. On a great note, my friend loved it!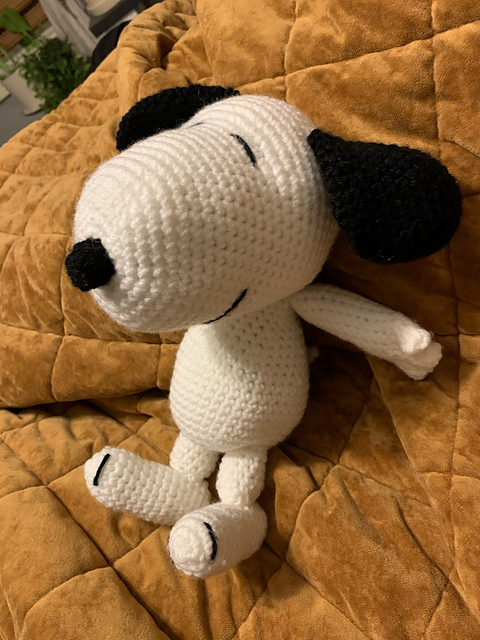 Following the shawl, I made another gift, but this one was a Snoopy Amigurumi plush by Amigurinos softies. I ended up using Big Twist Value Worsted Yarn in black and white and used the size down from recommended hook size for the yarn. What I loved about Amigurumi is you can change up the yarn size and hook size to make a larger or smaller plush. I am happy with how this one comes out and I really hope the person it is meant for will love it.

This month I made a lot of gifts for others, this time around I made an Outlander Cowl by Jamey from Dabbles & Babbles. I used Big Twist Sincerely Solids in the color Oatmeal Heather. I doubled up on the yarn and ended up using a size 10.0 mm hook. I really loved the texture of this scarf and really love how this came out. The person I made it for ended up wearing it all day when I gifted it to them.
This next project is for me, I ended up making myself the Crochet The Claire Shawl From Outlander by Selina Veronique
using Stylecraft Special Aran in Khaki (1) and Camel (4). I ended up using a size 6.0 mm (J) hook. I decided to use yellow and a green color instead of the green and black used in the show because I wanted to make it more spring-y.
The last project I finished in March was Beginner Felici Crochet Socks by Briana K Designs. I ended up using
Patons North America Kroy Socks yarn doubled up, I actually mixed the colors brown rose marl and
gray brown marl together and used a 4.5 mm hook. This was a project I was very much intimidated by, but so happy that I tried. Plus, I am really happy with how they came out.
What hobbies have you been filling your time with?