So, I am still trying to get back in the habit of writing here, it is funny how 2 weeks without a computer gets you so out of wack. I should be picking up my new one within the next week, fingers crossed. While I am waiting for that and I was able to borrow one temporarily I thought I would continue on sharing what I read this week, what I acquired, some stats and what I have written.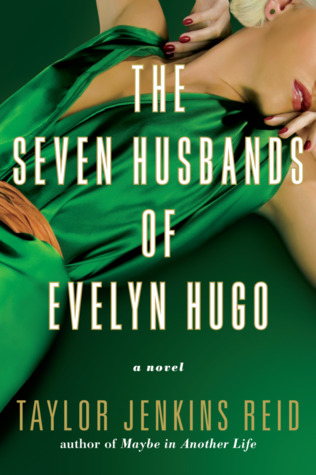 I ended up liking this book so much more than I thought I would. I normally rarely read about celebrities or actors I like in real life, so I always thought, "Why would I care about one that didn't even exist?". Well, I have to say that this book proved that point wrong. Within the first chapter I was already hooked. They methods used by the author to tell Evelyn Hugo's story were wonderful and made it feel so tangible. Not only did the author tell an addicting story of this woman, but she told a story of so much more than that. That is the part of the story I did not expect and loved. The author did some great things with this book and I highly recommend.
So, since I have been slowly collecting these Hufflepuff editions I have been wanting to reread these stories all over again and tab them up. Well, this week I finally did it because I stopped myself from feeling guilty about rereading when I have so many others I need to get to on my shelf. I am so glad that I stopped caring and did. This story continues to be a 5 star read.
So, not only did I reread one of the Harry Potter books, I reread this one as well. I read them both in two days and it was magical. I wish I had more time this week to continue. I think I will go for one a month at least in the next few so I can tab more of my books up. Then when more Hufflepuff editions come out I can transfer them.
If you have been around for any point on my blog you will know I love Little Women with all of my heart. This pasty summer I was lucky enough to visit the house in which it was written. While I was there I picked up this book and I finally read it for Nonfiction November. I found a lot of this book to be wonderful, I learned a lot about Louisa and her family even though I have read about her in the past. Part 2 and 3 are better considered a historiography of the story and how it was viewed as a book throughout time, which I loved! I think some parts I could have done without, but overall I recommend this book to anyone who wants to know more about this story and the women who penned it.
I happened to put this on hold at my library after watching an interview of these two. While I have been a fan of both of these humans for years I never really read much about them. When it became available I picked it up and dived right in. I really liked the way this book is told as if it is a conversation. You get true picture of their relationship and their personalities. It gives the story life and it made me fly right thorough it. I you are interesting in either one of these humans I highly suggest picking up this comedic memoir.
I have had this book on hold at my library since I read Practical Magic a few months ago. So far I am really enjoying this prequel and I am already mad because I am emotional about the events that have happened already. How does Alice Hoffman get me like this every time I read one of her books? Once again it is a magical story of a family that you can't held but love and root for.
I am barely into this book because I am a horribly buddy-reader this week. I have read about 9% and I am already curious to see where this novel goes. I have no doubt that this is going to be a wild book that will cause me to gasp in shock a few times.

I decided to pick up this novel because I have been hearing so many great things about it. I also feel like I am going to want a larger read for the winter time. I loved that this teased a but of a mystery, but also the fact that it is set in the past and I love a good historical fiction.
"My real name, no one remembers. The truth about that summer, no one else knows.

In the summer of 1862, a group of young artists led by the passionate and talented Edward Radcliffe descends upon Birchwood Manor on the banks of the Upper Thames. Their plan: to spend a secluded summer month in a haze of inspiration and creativity. But by the time their stay is over, one woman has been shot dead while another has disappeared; a priceless heirloom is missing; and Edward Radcliffe's life is in ruins.

Over one hundred and fifty years later, Elodie Winslow, a young archivist in London, uncovers a leather satchel containing two seemingly unrelated items: a sepia photograph of an arresting-looking woman in Victorian clothing, and an artist's sketchbook containing the drawing of a twin-gabled house on the bend of a river.

Why does Birchwood Manor feel so familiar to Elodie? And who is the beautiful woman in the photograph? Will she ever give up her secrets?" –goodreads.com
I came across this author a few years ago when I was either reading about Stephen Kings recommended books/authors or when I was looking at his twitter feed, sadly I cannot remember. Since then I have read 2 of her books and wow, they are a trip. She is a gift author and when I saw this edition on sale I knew I needed to get my hands on it. She is a great thriller writer and I feel like she is not talked about enough at times.
"A Punk Lolita fighter-pilot rescues Tokyo from a marauding art installation. A young architect's life is derailed by an inquisitive girl who happens to be a ghost. Loyalty to a favorite product can be addictive when it gets under your skin.

In her edgy and satiric debut collection, award-winning South African author Lauren Beukes (The Shining Girls) never holds back. Ranging from Johannesburg to outer space, Beukes is a fierce and captivating presence in the literary landscape." –goodreads.com
This was my Book of the Month pick of November, the reason I picked this book out of all the others was simply the description. How can I not want to read about a couple that plans the perfect murder and not want to read that happens and ensues from there? Also, I was curious to see how the author portrays their son who sadly is a victim of an awful crime.
"Till death do us part

When they fell in love back in law school, Natalie and Will Clarke joked that they were so brilliant, together they could plan the perfect murder. After fifteen rocky years of marriage, they had better hope they're right.

Their young son Jacob's principal is accused of molesting a troubled student. It's a horrifying situation—and the poison spreads rapidly. One night before bed, Jacob tells Natalie he is a victim, too. In that moment, her concept of justice changes forever. Natalie decides the predator must die.

To shelter Jacob from the trauma of a trial, Natalie concocts an elaborate murder plot and Will becomes her unwilling partner. The Clarkes are about to find out what happens when your life partner becomes your accomplice—and your alibi. "-goodreads.com 

What was the last book you read?